On May 8th, Student Council hosted the first flea market at CIS. It has brought a lot of fun to all of the participants, including students, teachers and parents. The theme of this flea market is Sustainable Consumption since Student Council would love to promote the concept of saving our planet by being a rational customer. During our one-hour flea market, items such as household decorations, books, toys, snacks were very popular.
Student Council members really had contributed immerse effort into this event. Student Council had planned this event over a month. They made several versions of posters and presented in each homeroom in order to recruit student and teacher vendors. They discussed a lot of times and finally set up a reasonable cashier system to make sure the whole event ran smoothly. They also arranged 10 Student Council members to maintain the on-site order when the sale happens. It was a great opportunity for students to practice their leadership skills.

The flea market not only cultivated awareness of environmental protection, improved students' self-management and social ability, it also taught them how to manage money and property, as well as how to calculate fast! After the exciting experience being a booth vendor, Leo immediately asked me: "When is the next Flea market? I'm going!" When I shared photos of the event on social media, many friends said "Leo already looks like a businessman".
——G1A Leo's mom
My daughters Jolie and Katherine participated the flea market organized by Student Council with their good friends Yuri and Miisa. During planning, they discussed the items they wanted to sell and the price. In the event, they did cashier and sales all by themselves. They almost sold out all the items in the one hour event! They were so thrilled! For the first time in their lives, four little girls experience success in doing business. It was truly precious experience for them!
-G2B Jolie's Mom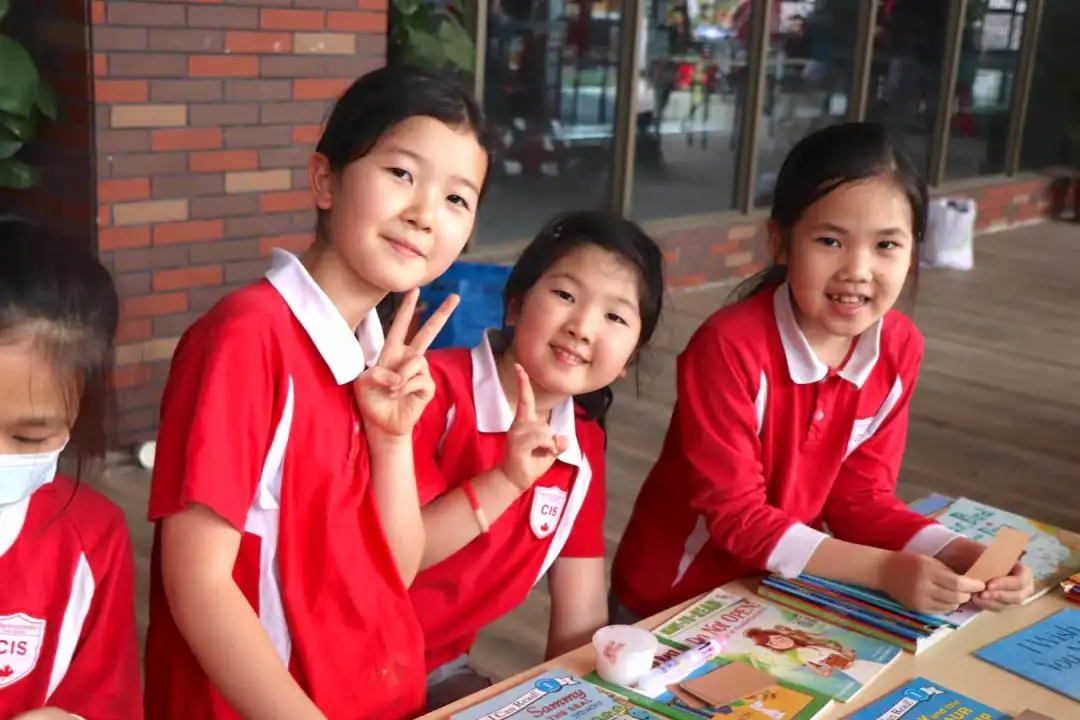 On may 8th we had a flea market and I wanted to experience the event. At first, I was chickening out of it because I thought nobody is going to buy anything from me, but if I don't try I wouldn't know how it would go so I joined. You might ask what I sell? Well I sold kids toys like teddy bear, bracelet kit and cute little notebooks etc., I made a pretty good amount of money from selling kids toys and I was happy with the amount I got. Overall my experience was fun and everything except the part where I had to say no to my customer because they didn't have money.
-G12 Sarah
I had the pleasure of being a satisfied customer at the Student Council hosted flea market. When I first arrive, I was impressed by the number of vendors there to sell used items as well as new ones. There were vendors that ranged from Kindergarten all the way to G12. It was so cool to see that some students even made items to sell themselves. The process to purchase was well centralized and easy to follow. As I walk around with my G2 daughter, Treska, it was easy to find items that we wanted. Everyone in our family walked away with a new treasure. I am thoroughly impressed by the organization that went into planning this event and executing it with apparent ease. It seemed like a great event that benefited the whole community.
-Mr.Keltz
A positive school culture is an essential part of any school system and creating an environment where students feel empowered and connected with their school is a key component for any school principal. This past week our student council members organized a school-wide flea market. This event was organized and executed 100% by the students themselves and they worked tirelessly to promote the event and to ensure that the whole-school could participate. I am extremely proud of the motivation and care that these students have to create fun opportunities for their fellow classmates. These types of events bring joy to a school and allow students to build real-life experiences in marketing, collaboration, entrepreneurship and event planning. Thank you CIS student council!!! I am proud of you and I appreciate being able to support and encourage you in all of your endeavors.
– Principal: Mrs. Thiessen
As the president of the Student Council, it is important to know the feedback to the Student Council from students, that's why I decided to be a seller at this time, it can help me to give fair feedback, and I think Student Council did pretty successful in this time. The number of visitors was over my expected, and the field order is quite well, the mechanism of collect money which I was really nervous before the activity, didn't happen serious problems. Although there is still a lot of aspects can be improved, I am proud of my amazing members since this is the first time we run this kind of activity. Special thanks to the in charge of the flea market, Joanne and Pepsi. We cannot run this market so good without them. And thanks to the members who work hard in this flea market. you guys bring a pretty well experience to the sellers and visitors, and I am sure they will like to participate in the activities of the Student Council in the future.
-G12 BenC
As I'm in charge of the flea market, I learn a lot of things that I cannot experience in the class before. From making a poster and went to each classroom talk with the teachers for advertising, then connected with every seller to solve their problems, during the Labor Day still kept contact with the sellers and update the information they need to know every day, make sure they can understand and implement for it. At the same time supervise the Student Council members which are helping to hold this activity are doing their job on time. In this period, it's not only improved my communications skills with others but also developed my ability of organizations. And get an unforgettable, awesome experience from it, notice my own shortcomings. I'm really grateful that the flea market can bring everyone fun and happy, also some of the teachers and parents told me that they loved this activity. Thanks for everyone support, and I believed that the CIS student council can bring a better side to everyone.
-G12 Joanne