Dear CIS Community:
The Coronavirus situation is still developing. We are keeping a close eye on the latest reports from the CDC and respond quickly and efficiently. At this time, with no further notice from Education Bureau, CIS will be back to school on Feb. 3rd. Student and community health is our number one priority. During the break, we've taken following precautionary measures to provide a safe campus for our students, staff and families:
1. All staff are required to report their travel routes during Chinese New Year holiday and we will be taking daily temperature check and reminding everyone to constantly wash hands.
2. All classrooms, dorms, canteens, school buses, the gymnasium, the Learning Commons, the Idea Lab and bathrooms will be sanitized on a daily basis.
3. All canteen staff hold health certificates. All meat (chicken, pork, beef, fish) is from guaranteed sources.
4. All water machines will be cleaned and sanitized.
5. We are stocked up with personal protection tools (masks, gloves, hand sanitizer. etc.) and thermometers.
6. Hand sanitizer will be provided in all classrooms, bathrooms and public areas;
7. All school assemblies or events are cancelled if unnecessary;
8. We are generating daily reports of morning check and sick leaves and checking for any sign of (suspicious) infection. We'll contact qualified hospitals and conduct quarantines based on official doctor advice. All students with sick leave can only return with a doctor's notice.
Very importantly, all classrooms at CIS have been equipped with AtmosAir system. AtmosAir is known as the most efficient system for actively and continuously disinfecting and decontaminating indoor air and is qualified for surgical wards in hospitals. It has the greatest impact on reducing the spread of the Corona Virus by disrupting its reproductive cycle.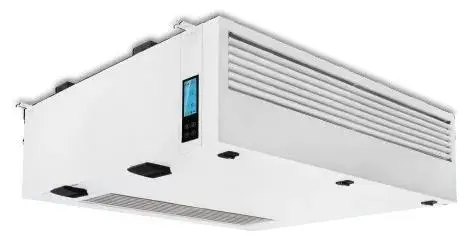 AtmosAir Renders Airborne Viruses Inactive:
1. Ions attach themselves to virus.

2. Ions pull hydrogen molecule off of virus to combine and form water vapor.
3. Ions render virus inactive and cannot infect even if it enters the body.
Meanwhile, we're asking all families and visitors to cooperate with us by:

1. Accept daily temperature checks when entering the campus. Wear a mask and wash hands properly if taking public transportation;
2. Please immediately contact the nurses if you have any sign of fever, coughing or shortness of breath;
3. Please inform the school if you have visited or passed through Wuhan during the holiday.
The Coronavirus has an incubation period, prevention is particularly important. Please refer to the protection guidelines shared by the National Health Commission.

As this is an evolving situation, please refer here to our WeChat Official Account for updated information. CIS wishes you a safe Chinese New Year.