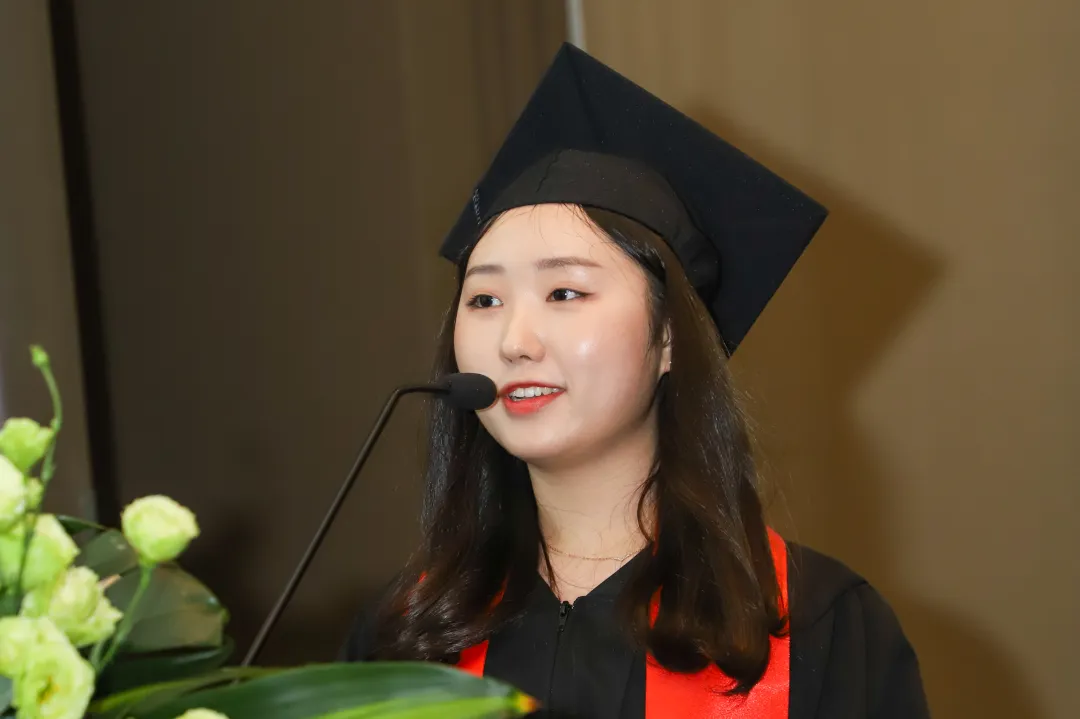 A school valedictorian is traditionally the student with the highest GPA in the graduating class and delivers the farewell speech at the graduation ceremony.
At the 2020 CIS Graduation, this student was Jina Kim, who graduated with the best academic performance, and a proud Student Council member.  At the Grad Ceremony, she gave a beautiful and encouraging speech to everyone.
Good afternoon teachers, families and fellow graduates. I am Jina Kim, valedictorian of class of 2020. Before we begin, I appreciate Mr. Simon Chen who is Vice President of CIEO and, Consul Mr. Mark Vcislo who is responsible for political, Economic and Public Affairs to come to our graduation. I have experienced numerous feelings at this podium, and I am sure many people here sympathize with that. Obviously, I am full of great happiness and fulfillment. My classmates and I have put a lot of effort into the last three years to stand here today and say that we have earned the right to graduate. It was by no means an easy task, and there were many times when we felt like we wouldn't be able to reach the finish line. Well, we did it. We all achieved one of the important early milestones of our lives: this is a step on our journey of life. A high school diploma is a wonderful tool in the world, and it opens many doors for anyone who has it. But gradation is not a final goal in itself; instead, it is part of a greater journey in life. Life is a journey, and all lessons we owe to that journey should be taken as a starting point for future aspirations. We stand here today on the brink of the future. It is no longer a distant reality. It starts here. It starts today. We have completed basic training that will serve as the platform we use to move forward.
We will go to university soon. Wherever we go, whatever we do, there's a challenge ahead of us. What I ask of each of you, and of myself, is to raise your head high, open your chest wide and face the challenges the right way. Although it may not be easy to see, every accomplishment you achieve adds to the achievements of the world. Individual success helps society as a whole because it relieves the burden of our fellow man. Imagine that all individuals have lived up to their potential. Think about how amazing it would be, and how much better the world will be. Now imagine that only half of those people have lived up to their potential. The world will still be a wonderful place. If even a quarter of them tried to make their lives a success, they could still make remarkable contributions to society. Well, we may not have the power to inspire the whole world to strive for success, but we have the power to try to achieve it for ourselves. To challenge each of you, and to myself, is to do everything you can to reach your potential. If each of these seniors can do so, imagine the effect. The future is really in our hands, so let's make the most of it.
We tried hard to get to this point, but we didn't do it ourselves. We should give thanks to the following people: I would like to thank the teachers who set us on the path to success. Without your help, some of us may not be able to graduate today. You took the time to explain the work over and over again because we didn't pay attention. You have allowed us to come to your classroom and get extra help. You tried to make the class more fun such as to shock students in the middle of class, so that we wouldn't just tune out. Thank you to our parents, for supporting us in countless ways. You helped us with our dreams, paid our tuition, and listened to our complaints and worries. You came to our plays and attended our school events. You tried to provide enough space for us to empathize with our daily drama and learn how to solve it on our own. These are just a few of the thousands of ways you have been with us on our journey. For our principal and vice-principal and all the CIS staff, thank you for making things go smoothly so that our teachers can concentrate on us.. As you can see, one graduate had at least a dozen advisors. The best way for our graduates to express their gratitude is to move on with the goal of making the most of the given opportunities and leaving the world a better place than we found it.
Lastly, I remember many projects I did in English class. Especially, the shock was unforgettable when we learned about the Holocaust. Not only me, but all the students must have felt something throughout the Memorial Project. We experienced the realities of the world and the pain of history, and through it we matured. Progress is rarely easy, but don't doubt the path you've walked on, and just keep going. We are the ones who stand there in the end, whether the path was thorny or lush with flowers. What is most important is that we take center stage and become strong people. Let's make each decision with the best interests in mind. Let's believe in ourselves so that we can achieve our goals and dreams. Let's be the best we can be so that we can live fulfilling lives and care for those closest to us with happiness and pride. We have already taken our first step by attending this ceremony today. Thank you.