Go Grizzlies!!!
As the second season get underway our Grizzlies sports teams have been busy representing our school in different sports at different age groups. Elementary are currently competition in Soccer, Middles school are competing in Volleyball and our High school are competing in Basketball. Our third season will begin in March and run until the end of the year. Elementary will be competing in Basketball and Badminton, Middle School will be competing in Basketball and High School will be competing in Soccer.
Season reviews are as following.
Season 1 Middle School Badminton
The Badminton Grizzlies had a great season this year, performing well in all three tournaments: one at Clifford International School, one at home here at CIS, and one in Shenzhen. The team played skilfully and with great intensity, supporting one another with a robust feeling of camaraderie, putting many personal victories under their respective belts. And we had fun doing it! Coach Stone is proud of his Badminton athletes and is grateful to have been a part of this commendable team.
Coach :Mr. Stone
Season 2 Elementary Girls Soccer
As the second season is underway, the G4/5 Grizzlies girls have got off to an unbeaten start. The first game was against Canton Global Academy Cobras, the girls ran out 4-2 winners with goals from Hannah Uren, Rahaf Muthana x2 and Anna Chen. Our second game was against ISA Dragons, the final score in this game ended 4-0 to the Grizzlies with goals from Hannah Uren x2, Rahaf Muthana and Apple Yang. Our third game was an entertaining 5-5 draw vs Yew Wah International school, goals from Hannah Uren x2 Rahaf Muthana, Ivy Zhang and Anna Chen.
Squad:Hannah Uren, Rahaf Muthana, Ivy Zhang, Anita Zhang, Apple Yang, Anna Chen, Samantha Buhl, Tota Hassan.

Next games: 9th March GISES (Guangzhou International Schools Elementary Sports) tournament. 

Coach:Mr. Bartlett
Season 2 Elementary Boys Soccer
Season 2 saw the start of the Elementary Boys' soccer. This is always a really popular sport within our Elementary grades, and this year was no exception! We were delighted to have a strong squad of 13 boys join the team this year.

Training started in late November, with enthusiasm and great passion from all the boys! Some are new to the game and some boys have played previously, giving us a lovely balance of experience and excitement within the team.
We have played three games so far this season, things are progressing well with one victory and two very close games that unfortunately resulted in loses. We have 6 more friendly matches planned and two tournaments. We are excited and prepared for the big GISES (Guangzhou International Schools Elementary Sports) competition, which is on Saturday 9th March. Keep looking at the CIS WeChat updates to see the results!
Squad:Feras Muthanna (c), Danny Chen, Alan Zhang, Issac Hui, Ryan Uren, Bryan Chen, Majed Alhussain, Lawrence Cheng, Henry Cross, Delcio Fernandes, Mohammad Al-Areqe, Kyle Horracks and Kyle Kim.
Coach:Mr. Bowden
Season 1 & 2 Swimming
Students first jumped in the water mid-September and others joined in November. Since then, we have seen substantial progress from all of them. Each swimmer has proved themselves to be able to adapt to new challenges and strive through hard workouts. It has been a blast coaching all the swimmers. They show up with bright smiles and work hard everyday in the water. We have gone to three swim meets so far; one in the British School, one in Shenzen, and one at our very own pool! Each time, those that competed tried their best and it showed as they crushed their old times in their races! Looking forward to continuing with this wonderful bunch of kids and working to achieve their goals.
Coach:Ms. Dryden & Ms. Bush
Season 2 High School Basketball
The 2018/2019 Senior Boys basketball season was one of firsts. It was the first year we managed to field a team at the senior level, the first year we competed in the PRC athletic conference, and our first series of home games in our beautiful gymnasium. These milestones are enough to call the season a huge success, but the team also performed well above expectations from a basketball perspective. Despite the youth and relative inexperience of our team, we managed to compete with all other schools we faced. Thus far, the highlight was finishing second in the YWIS invitational tournament in November. To top it all off, we host the PRC finals in our gym!
Coach: Mr. Turner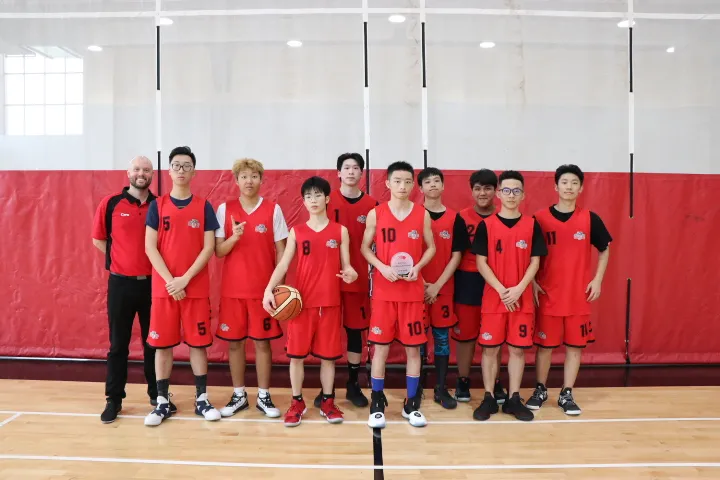 Season 2 Middle School Volleyball
The junior girls' volleyball team is off to a great start to their season. Our team is very young and new to the sport, but they are determined and fast learners. We have a small team, with only eight girls total this year. With a small squad, each team member needs to work extra hard, and everyone gets a lot of game experience! In our first game the CIS Grizzlies played against the Clifford Cougars. The Cougars came out strong and ended up beating us in two straight sets. However, we learned a lot from this loss and had our second game the very next day!
In our second match the Grizzlies played against NCPA. The first set of the game was a little shaky, with our girls losing 25-8. In our huddle we made the team goal of scoring more than 8 points in the second set. The girls played extremely well, and our team ended up winning the second set! With our first taste of winning the match went to the third set. The Grizzlies played well, but the NCPA girls fought back and won the match. Again, even though our Grizzlies lost they have learned and improved so much in two short games. We are looking forward to our up coming tournament, and to the rest of our season.
Coach:Ms. Zacharias
Season 1 High School Table Tennis
This year was the first season for our Grizzlies high school table tennis team. It was an excellent season for growth and sportsmanship. We worked hard to develop our skills during practice and travelled to UISG and NCPA for friendly matches. These experiences playing other schools were very beneficial to our players, and we are grateful for the opportunities.
At the end of the season, CISGZ participated in the Pearl River Conference High School Table Tennis Tournament. This competition matched our students up with some of the best table tennis players attending international schools in Guangzhou. While we did not win any trophies, the Grizzles played in some excellent matches. All of our players improved over the season, and it showed at the tournament. We are looking forward to next season, and growing even more as table tennis players.

Coach:Mr. Volk