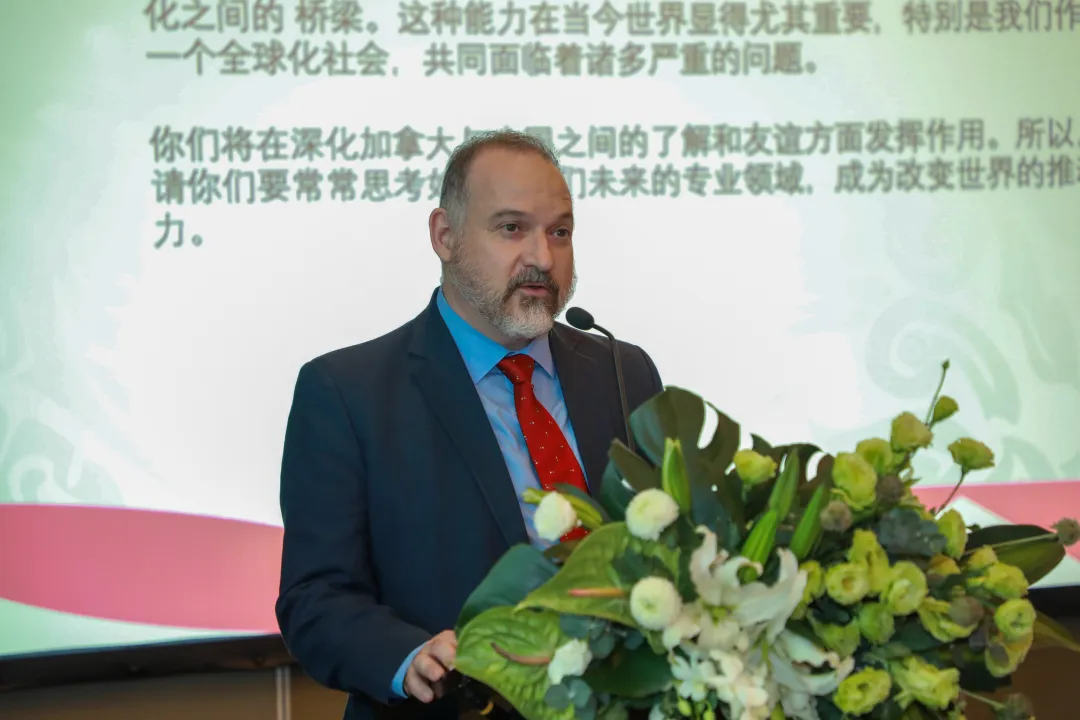 At the high school graduation ceremony last week, the Canadian Consul Mr. Mark Vcislo who is responsible for Political, Economic and Public Affairs shared his wise words with the graduates, parents and guests. Here we share the original speech with you. 
Bonjour – Mr. Simon Chen, Principal Tanya Thiessen, honoured guests, parents, faculty, and most importantly this year's graduates – good afternoon.
Let me, first and foremost, congratulate all the students graduating this year from the Canadian International School of Guangzhou.
It is hard work to get to graduation, especially during these challenging times, and you have succeeded! Well done! Congratulations also to the assembled teachers and family members, all of whom have played such an important role in guiding and inspiring the students to reach this happy occasion today!
While today is a day for celebration, I would also like to acknowledge the difficulties and challenges that many of you have faced, and are probably still facing because of COVID-19. I know that the global pandemic has been disruptive to your plans and that it may be some time before normalcy returns. In these turbulent times, it is more important than ever to be adaptable, patient, kind to one another, and not to be discouraged.
For our graduating class, here you are, standing ready to face the excitement and challenges of a new milestone in your life. For many of you, this means pursuing higher education, to acquire further knowledge and skills for your chosen profession.
Your time at CISGZ has helped you to acquire the capacity to understand, at minimum, two different cultures, and to act as a bridge between them. This skill is even more important in today's world, given the serious problems we face as a global community.
I hope all of you will be a part of building bridges and promoting mutual understanding between countries and cultures. Please always think about how you can be positive agents of change in the world, whatever your future profession.
I was pleased to learn that many of you have been offered admission into Canadian universities and have chosen to continue your studies in Canada.
I would like to assure all of you that Canada remains a very open and welcoming country and we deeply value the presence of students from China. I understand all of you are eager to travel to your new schools and we are all hoping the situation will improve soon to allow this to happen.
Canada is a very diverse country, made up of people from around the world. We attract more immigrants per capita than any other nation. We are known for our diversity, but we also seek to promote "inclusion", the idea that no one is left on the margins. We all stand equally together, and no person is lesser because they are different.
We believe that having a society comprised of people of different races, genders, religions, cultures, sexual orientations and languages, makes us stronger.
For our graduating class, your experience here at this school has also given you an appreciation of diversity. As you go forward in your lives and studies, and you meet people with sometimes very different backgrounds or experiences from yourself, continue to value difference, and always ask yourself, what can l learn from this person who is not like me?
Let me also say a few words about the importance of gender equality – for any country or society to truly reach its potential, it has to capitalize upon the abilities of all of its citizens, women and men. So, to the young women here, make sure you stand up and be counted, don't be shy, show the world what you can do. And to the young men, stand beside the young women as they do this, encourage them and learn from them; you have a role to play too in creating real gender equality. And our societies, where your children will live, will be better because of this.
Finally, my last word of advice is to stay open to new opportunities and experiences. Find time away from your studies to have fun and get to know well the place you are living in. 、Once the situation allows, take time to explore your new cities, to become part of your new community, maybe volunteer, and make good friends and memories with the people around you. These will be the things you will cherish most about your college and university years.
Once again, my very sincere congratulations to each and every one of you, and best wishes for your future success!
Thank you!